Misfortune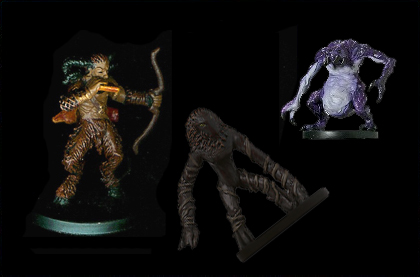 Not long ago, at my day job, the company did a vicious round of layoffs. The bad economy, blah blah blah, fine, I understand why. That I was spared feels more like the toss of the dice than any value the company holds for me personally. It's not that I didn't understand why people I worked with and had become friends with had vanished overnight—it's for reasons of security. But what I still cannot forgive is the method by which these layoffs took place (and the mess they leave behind). One minute you're working your ass off for the company you've invested your efforts into for years, the next minute a single phone call is received: a study in scripted, ass-covering derision. Oh, there's legal reasons for the minimal wordage. But these people were human long before they were employees. They deserve, at least, a dose of dignity.
Well, my night job (writing) just became disturbingly like my day job.
So, as has been mentioned in a few places now (like here and here and here), Wizards of the Coast has recently made some presumably corporate decisions, resulting in the cancellation of a number of series and books that were in the pipeline. Included in this was the complete termination of the series that my recently finished (well, a 96,000 word first draft) book was part of. The book will not be published, and that's that.
Most of all, I wish I could give the time spent writing the book back to my wife. The nights and weekends for the better part of six months.
There's nothing more to say about it. WotC is well within their rights to pull a book from the schedule of releases, it's built clearly in their contracts. And we sign those, like the freelancers we are.
For the record, I like Wizards of the Coast. Still do. I love the D&D game, glad they saved it by buying it off of the tanking TSR. And I loved writing for Eberron. I was a fan before I was an author, and I have a real passion for the creative efforts of the people who fashioned the still-young campaign setting. Despite some frustrations along the way, I really did love every minute of it. I got a novel published, which is what I dreamed of doing for years.
Will I write for WotC again? Maybe, if they'll have me. But not right now. So it's time to turn my attention elsewhere.
A bit of irony: One of the themes in the book I finished this summer (but will probably never see publication) is that of loss of innocence. A man betrayed looking back in disgust as the naiveté he once possessed, that led him to his current plight. The novel was supposed to have a Western vibe to it, a lone rider of sorts. Funny, just yesterday, I had my wife borrow an anthology of short stories written by Louis L'Amour, the quintessential Westerns writer, so I could gear myself up for the revision of my book.
I don't want to be a bitter writer (or resentful employee) after all these recent happenings. I just want to be a smarter one.
posted on 07.19.2008
Comments