Kobold Quarterly Interview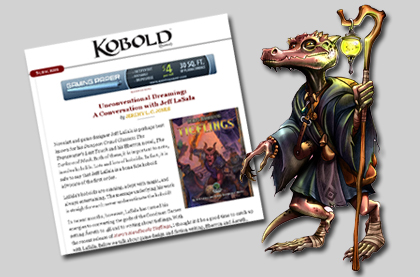 Some time ago, Jeremy L. C. Jones of KoboldQuarterly.com (and a very personable fellow) approached me and asked me if I'd do an interview for the website—not to be confused with the Kobold Quarterly magazine itself. (Previously KQ has also interviewed Joseph Goodman, Harley Stroh, and Aeryn Rudel—all acquaintances of mine through my Goodman Games work.)
I thought that was just peachy, and of course it's nice to talk to the folks over at one of the most popular RPG websites around. Kobold Quarterly, run by game designer Wolfgang Baur, was the first print magazine to spring up when Dungeon and Dragonn magazines transitioned into a strictly electronic existence.
Unconventional Dreaming: A Conversation with Jeff LaSala
Which brings up another thing. I've been largely remiss on visible Savant progress in the last few months due to (1) a large number of circumstantial life speed bumps and (2) RPG projects I had to clear from my plate. But I am returning at last to this book, which is still in its infancy.
But not for one second has my interest faded. This is still a book set in the quintessential world of my imagining, and so it's time to get back on track. Stay tuned for the next installment of Savant Scrawlings.
posted on 10.18.2009
Comments