Fortress of Fading Dreams
My second DDI article for Eberron, Explore Taer Lian Doresh (Fortress of Fading Dreams), is now live in Dungeon magazine. You do need to be a subscriber to D&D Insider to view or download the article.
This article is the first installment of a three-part 'Explore' series. I wrote a brief blog entry about it over at Worlds of DnD. But in short, this is the article I'm particularly excited about, as it allowed me to flesh out an important, if remote locale of Eberron.
It essentially asks the question, 'What do you get when you take a bunch of tree-loving faeries and fling them into a realm of pure nightmare for tens of thousands of years?'
Answer: Not very nice faeries.
Oh, and the artwork is officially kick-ass.
I'm also honored to see that this article went live alongside a preview of the upcoming Monster Manual 3, featuring one of my favorite oldschool D&D monsters: the mimic! (Which I even put in The Darkwood Mask.)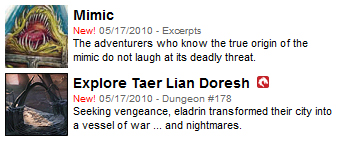 posted on 05.16.2010
Comments